Equestrian farm holiday – horseback riding on an organic farm in South Tyrol | Italy
Widmannhof riding stables near Bressanone / South Tyrol | Horseback Riding Holidays – excursions into the local terrain – pony rides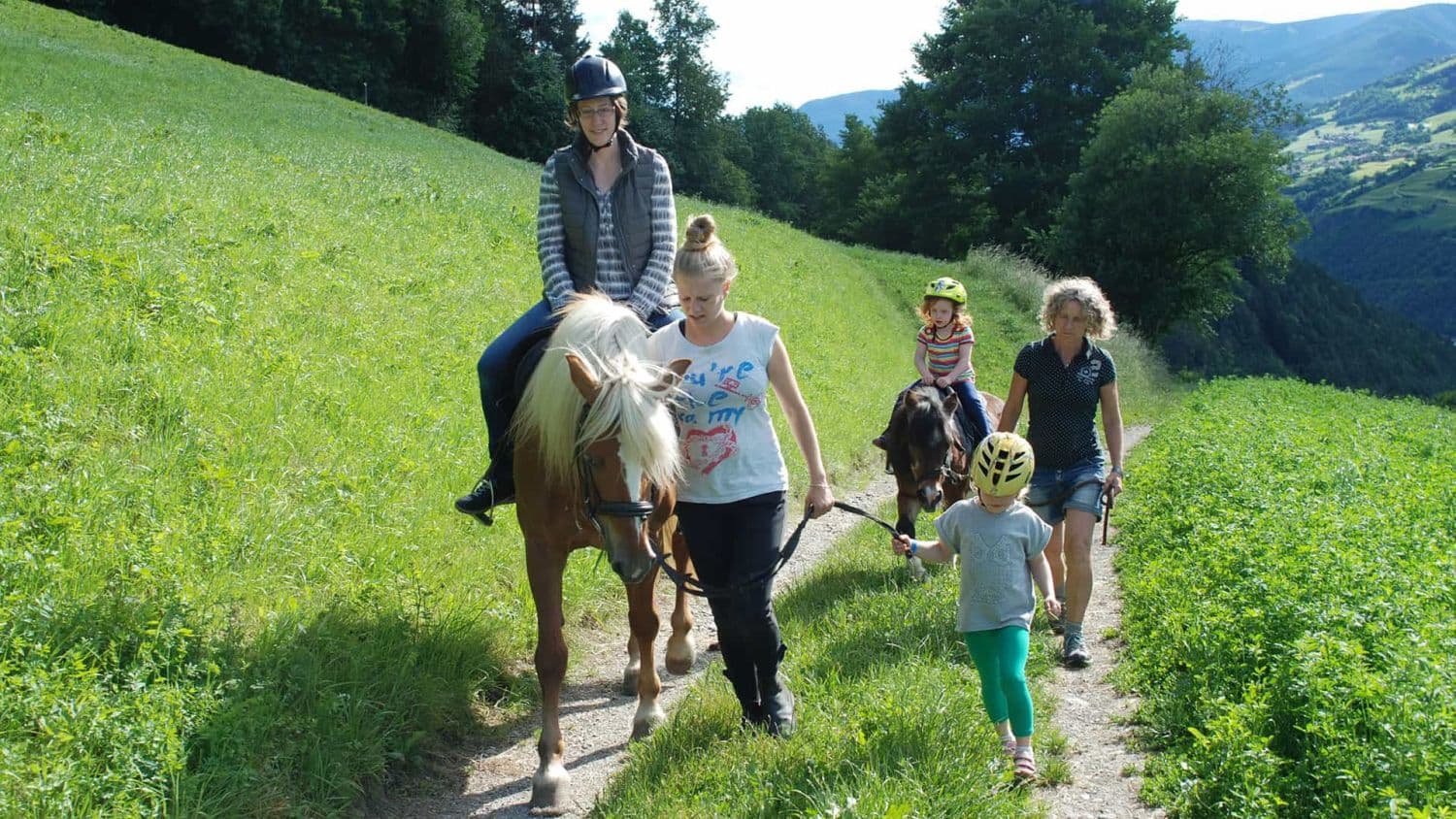 All the happiness on earth is on the back of a horse! Plan your horseback riding vacation with us at Widmannhof in South Tyrol or use the opportunity during your holidays to explore the area around Bressanone South Tyrol on horseback!
One thing we can promise you: an excursion is fun and is an adventure for the whole family!
Simply saddle up, jump on and go. Whether it be riding lessons on our own riding arena right at the doorstep of our farm or guided rides through the countryside of South Tyrol! Children, adolescents and adults alike can have fun experiencing horseback riding for the first time or perfecting their riding skills.
One of the best things about riding is experiencing and discovering the mysteries and wonders of the South Tyrolean nature around Bressanone on horseback. Our guided day and half-day rides take you into the unique area of Eisacktal and invites you to enjoy the enchanting beauty of our unique home – South Tyrol.
Have you always wanted to learn how to ride? You can finally fulfill your dream with us!
For our youngest guests we offer safe and guided children's pony rides. Our experienced riding instructors accompany your child through their first pony riding lessons. Visit us and see for yourself: for the smallest horse lovers our pony "Emely" is the ideal companion for riding.
Riding holidays in South Tyrol – simply saddle, mount and go in St. Andrä / Brixen
Leaving behind the everyday life, experiencing a slow-down – certainly you will come to us with this request. In your riding holiday on our farm in St. Andrä / Brixen you finally have the time and leisure to fulfill your dream. Whether you assist us in our work as farmers, feed the farm animals, go on a mountain tour or swing on horseback, enjoying "all the happiness of the world" is entirely up to you. We are completely open to your holiday plans.
Our horses are looking forward to you
Spend very special riding holidays on our farm. We find the right riding offer for young and old, beginners and advanced. Especially for your children are our ponies the perfect companion for an adventurous and exciting vacation. Our small riders learn the right handling with horse, feel the warmth and closeness and quickly become familiar with the four-legged friends.
Just outside our door the natural landscape of the Eisack valley awaits you, which you can explore on horseback. A ride with farmer Georg, a certified cross country leader, makes fun and is an adventure for the whole family! A riding holiday in South Tyrol is varied and exciting, no matter if you decide for guided pony rides, riding lessons on our own riding area in front of the house or for guided rides around St. Andrä / Brixen.
Riding holidays for children and adults
In a playful and funny way both children and adults can gather their first experience on horseback or perfect their riding skills. Did you ever want to ride? Fulfill your dream and spend with us your riding holidays. Our horses are kept humanely in herds and are very good-natured and hard at work. The well-being of our horses is very important to us. So you can have fun on riding without stress and can look forward to a special riding holiday in South Tyrol.
Our horses
In the fall of 2021 we had to say goodbye with a heavy heart to our beloved Emely, who left us at the age of 35. In how many children's rooms and photo albums will she live on?
Riding prices
| Price | Service |
| --- | --- |
| € 21,00 | Lunge (25 min.) |
| € 26,00 | 1 horse riding group lesson * (50 min.) |
| € 21,00 | Guided pony riding (25 min.) |
* max. 4 persons per group.
The mentioned prices are intened for our house guests
Horse riding only with helmet and back protector
Knight and horse will rest on Saturday and one other day
Horse rides in the country are only for experienced and off-road riders
Please pay attention that maximal weight for riding is 70kg